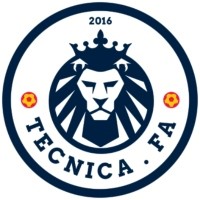 Tecnica FA
We are a FA Charter Standard Football Academy that provides a family-friendly safe environment for boys and girls to learn the beautiful game with enthusiastic FA Level 1-3 qualified coaches. We coach our children from foundation age through to youth's finishing at U18's.
Our teams play on Sundays in the Tandridge football league which provides competitive games for all abilities.
At Tecnica FA we apply football teaching techniques and principles learnt from Dutch and Spanish masters, combined with the UK FA "Four Corner Model" - this will:
Improve tactical/technical ability
Challenge them psychologically
Develop physicality

Grow confidence and social skills
Master the technique, Master the game. Please get in touch to get your child involved.
Warren Berkley – : warren@tecnicafa.com. Mob: 07456528812


Learning to play the Tecnica Way
All our teams train twice a week. Midweek sessions are based at Oasis Academy Shirley Park and are based on improving players' technique - fitness, strength, agility, balance and control.
Our Saturday morning sessions at Wickham Park Sports Club, are based on game structure and game understanding.
Parents and supporters are always welcome to enjoy the facilities at Wickham Park.



Saturdays

Wickham Park Sports Club

Midweek

Oasis Academy Shirley Park

U5s & U6s

Reception & Year 1

0900 – 1000







U8s

Year 3

0900 – 1000




Tues – 1800 – 1900




U10s & U11s

Year 5 & Year 6

0900 – 1000




Wed – 1900 - 2000




U7s

Year 2

1015 – 1115




Wed – 1800 – 1900




U9s

Year4

1015 – 1115




Tues – 1800 – 1900




U12s

Year 7

1130 – 1230




Tues – 1900 – 2000




U13s

Year 8




1130 – 1230




Tues – 2000 – 2100


Tecnica Play Principles
In possession
Playing out from the back
Be on the ball and take care of the ball
Forward attacking football
High Tempo
Out of possession
High press and intensity
Team work in defending




Pitch Hire
We have two football pitches which are available mid-week and at weekends. If you are looking for a one-off booking or something more regular please get in touch with the Chair, Mark Mullins at:
chair@wickhamparksportsclub.com
---